Reports Sales of $4.1 million, $1.9 million Gross Profit, and Record Gross Margin of 47%
Company Continues to Invest for Growth
HAUPPAUGE, NY, August 14, 2023 – AmpliTech Group, Inc (Nasdaq: AMPG), a designer, developer, and manufacturer of state-of-the-art signal-processing components for satellite, 5G, and other communications networks, including the design of complete 5G/6G systems, and a global distributor of packages and lids for integrated circuit assembly, today announced financial results for the second quarter of 2023, ended June 30, 2023. The company will host an investor call on Tuesday, August 15th, 2023 at 4:00 PM ET.
Investor Earnings Call Details
Date/Time: Tuesday, August 15th, 2023 at 4:00 PM ET
Dial-in Number: 1-833-630-0019 (domestic) or 1-412-317-1807 (international)
Online Replay/Transcript: Audio file and call transcript will be posted to AmpliTech's news page when available.
Investor Questions: May be submitted to investors@amplitechgroup.com prior to or during the call
Second Quarter 2023 Highlights
Q2 2023 revenue was $4.1 million compared to $4.6 million in Q2 2022.
Gross profit of $1.9 million compared to $2.0 million in Q2 2022 despite lower international sales from the semiconductor materials division.
Gross profit margin reached a record 47.2% compared to 44.5% in Q2 2022, an increase of 270 basis points despite inflationary pressures.
Core LNA revenue grew 23% to $1.8 million from $1.4 million in Q2 2022.
Spectrum sales were $2.3 million, a year-over-year decline of 27%, primarily due to lower international sales and softer semiconductor industry-wide demand.
Loss from operations was $508,110 primarily due to the Company's ongoing investments in new product development, including new 5G and wireless infrastructure products and MMIC designs as well as a wide-ranging automated CRM system.
At June 30, 2023, cash, cash equivalents, and liquid marketable securities totaled $9.3 million, ample capital to execute the Company's strategic growth initiatives.
AmpliTech expects continued growth in demand for its core LNA and semiconductor products as it works through its $66M CRM opportunity funnel.
Management Commentary
Fawad Maqbool, CEO of AmpliTech, said, "In the second quarter our core LNA business remained strong offset by weaker semiconductor sales, especially internationally. Gross profit was modestly lower, while the gross profit margin reached a record level. We have continued to invest for future growth and are excited to share that our ongoing R&D projects centered around our 5G ORAN massive MIMO radio units are progressing well and are on track with our expectations.
"Through the utilization of Massive MIMO (multiple input, multiple output) antennas coupled with beam forming technology, we are enabling a precise and efficient allocation of spectrum resources. This breakthrough approach is addressing existing performance limitations, facilitating support for a larger user base within each cell, and enhancing the overall end-user experience in densely populated regions.
"Our cutting-edge 5G ORAN radios are also set to showcase our proprietary LNA 5G MMIC chips. This technology, characterized by an exceptionally low noise figure, will help differentiate our products from competitors, as it will enable an increased coverage range. As a result, this innovation reduces the requisite number of radios in a 5G network, leading to an opportunity to enhance the return on investment for every deployment site. We anticipate the receipt of initial prototype units by our AGTGSS division in the fourth quarter of this year.
"The robust investments made by AmpliTech in these new technology endeavors are paving the way for the introduction of novel product solutions with inherently higher gross margins that should in turn yield higher net income. We believe that these solutions are poised to elevate the company to new heights when they are introduced and available to the market, which we expect will be in 2024," concluded Mr. Maqbool.
About AmpliTech Group
AmpliTech Group, Inc. designs, develops, manufactures, and distributes state-of-the-art radio frequency (RF) microwave components for global satellite communications, telecom (5G & IoT), space, defense, and quantum computing markets as well as systems and component design consulting services. In December 2021, AmpliTech completed the purchase of the assets and operations of Spectrum Semiconductor Materials Inc., a global specialty distributor of semiconductor components based in San Jose, CA. AmpliTech has a 13+ year track record of developing high performance, custom solutions to meet the unique needs of some of the largest companies in the global industries we serve. We are proud of our focused team's unique skills, experience and dedication, which enables us to deliver superior solutions, faster time to market, competitive pricing, excellent customer satisfaction and repeat business. For more information, please visit www.amplitechgroup.com.
Corporate Social Media
Twitter: @AmpliTechAMPG
Instagram: @AmpliTechAMPG
Facebook: AmpliTechInc
Investor Social Media
Twitter: @AMPG_IR
StockTwits: @AMPG_IR
Company Contact:
Shan Sawant, Director of Communications
AmpliTech Group, Inc.
Investors@amplitechgroup.com
Investor Relations Contact:
Kirin Smith, President
PCG Advisory, Inc.
ksmith@pcgadvisory.com
www.pcgadvisory.com
Safe Harbor Statement
This release contains statements that constitute forward-looking statements. These statements appear in several places in this release and include all statements that are not statements of historical fact regarding the intent, belief or current expectations of the Company, its directors or its officers with respect to, among other things: (i) the Company's ability to execute its business plan as anticipated; (ii) trends affecting the Company's financial condition or results of operations; (iii) the Company's growth strategy and operating strategy. The words "may" "would" "will" "expect" "estimate" "anticipate" "believe" "intend" and similar expressions and variations thereof are intended to identify forward-looking statements. Investors are cautioned that any such forward-looking statements are not guarantees of future performance and involve risks and uncertainties, many of which are beyond the Company's ability to control, and that actual results may differ materially from those projected in the forward-looking statements because of various factors. Other risks are identified and described in more detail in the "Risk Factors" section of the Company's filings with the SEC, which are available on our website. We undertake no obligation to update, and we do not have a policy of updating or revising these forward-looking statements, except as required by applicable law.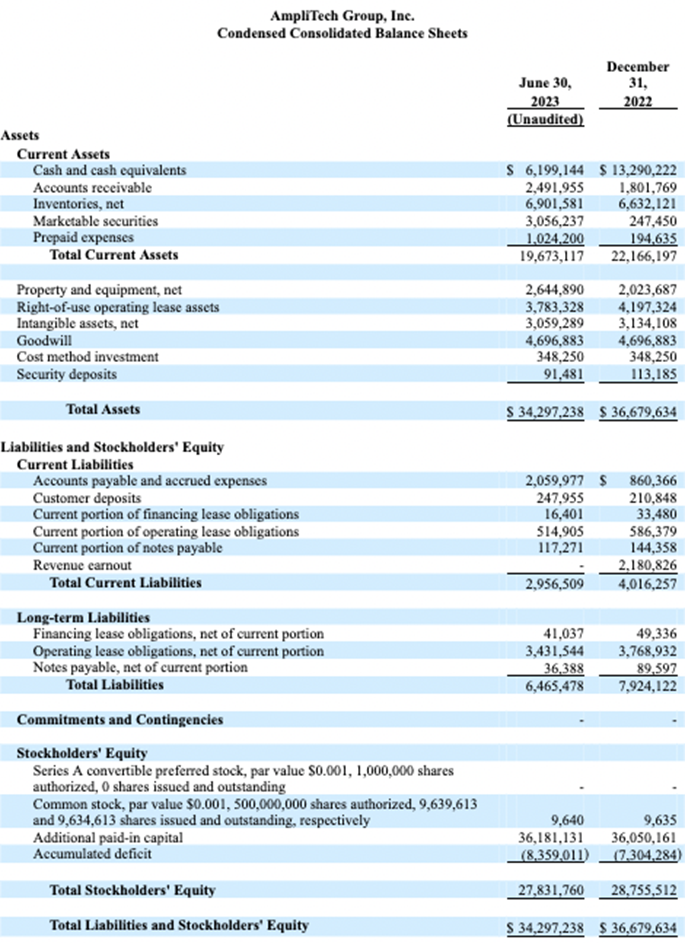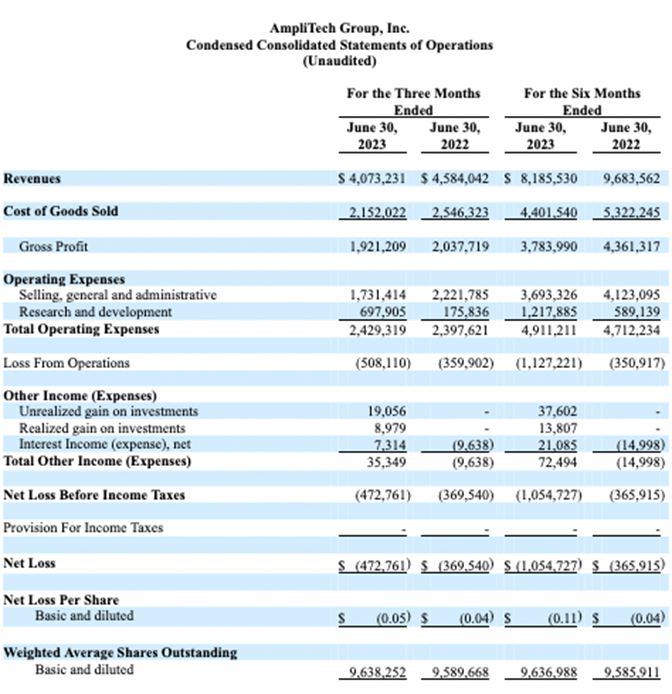 SOURCE: AmpliTech Group, Inc.