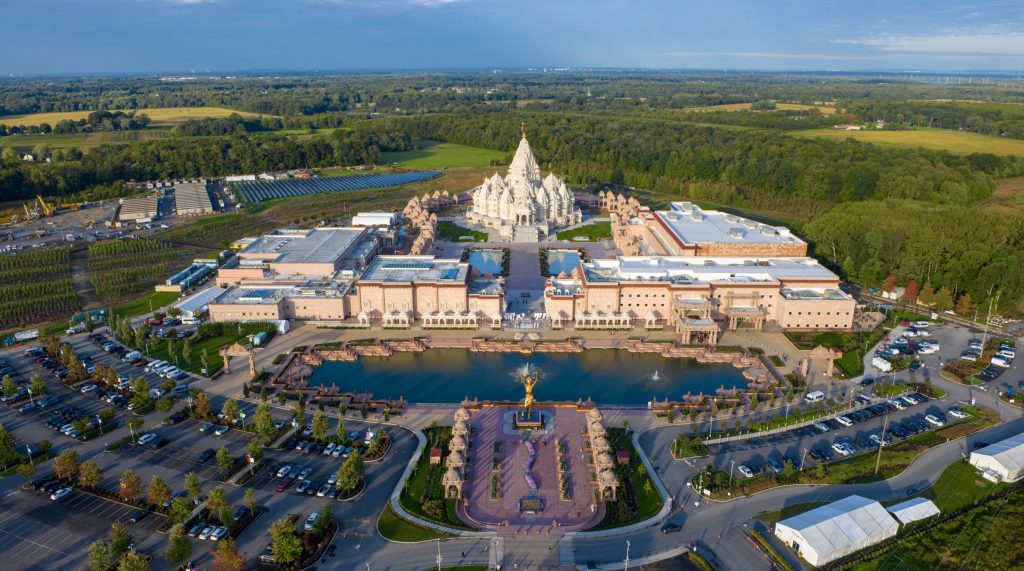 Twelve years in the making, Akshardham is the tallest and largest mandir, a Hindu place of worship, in the United States
New Jersey, October 4, 2023 — In the heart of New Jersey, a monumental testament to spirituality and architectural grandeur rises, inviting visitors into a realm where devotion intertwines with artistry. BAPS Swaminarayan Akshardham, a masterpiece of divine craftsmanship and cultural heritage, is not merely a temple; it is an awe-inspiring sanctuary where the soul finds solace and the senses are captivated.
A Journey into Divinity:
As one steps through the gates of BAPS Swaminarayan Akshardham, a transformative journey unfolds. The intricate marble carvings and ornate pillars whisper tales of ancient wisdom, while the divine aura envelopes visitors, inviting them into a realm of profound spirituality. Every corner of Akshardham is a tribute to the sublime teachings of Hinduism, embracing visitors in an atmosphere of serenity and reverence.
Architectural Marvels:
The architectural splendor of BAPS Swaminarayan Akshardham is a harmonious blend of traditional Indian artistry and modern engineering. Majestic spires reach towards the heavens, while delicate sculptures and vibrant frescoes adorn the sanctum. The central deity, Bhagwan Swaminarayan, stands as a divine sentinel, his presence infusing the temple with a sense of divine grace.
Cultural Heritage Preserved:
Beyond its spiritual significance, BAPS Swaminarayan Akshardham stands as a living museum of Indian culture. Intricately carved stone panels depict scenes from Hindu epics, while the Yagnapurush Kund, the largest stepwell in the world, showcases the architectural prowess of ancient India. The Sahaj Anand Water Show, a breathtaking multimedia presentation, narrates a poignant episode from the life of Bhagwan Swaminarayan, captivating audiences with its artistry and emotion.
A Haven for Learning and Reflection:
BAPS Swaminarayan Akshardham is not limited to its architectural grandeur; it is also a center for learning and reflection. The Akshardham Mandir Exhibition takes visitors on an enlightening journey through the life and teachings of Bhagwan Swaminarayan, inspiring a deeper understanding of spirituality and humanity. The Sahaj Anand Water Show, with its fusion of light, sound, and water, creates a mesmerizing experience that lingers in the hearts of those who witness it.
Welcoming All:
More than a place of worship, BAPS Swaminarayan Akshardham is a symbol of inclusivity. It welcomes people of all backgrounds and beliefs, fostering understanding and harmony among diverse communities. Visitors are not just spectators; they are participants in a collective celebration of human spirit and cultural heritage.
BAPS Swaminarayan Akshardham stands as a testament to the enduring values of humanity, encapsulating the essence of devotion, art, and cultural preservation. In its sacred halls and sprawling courtyards, visitors find not only a resplendent architectural marvel but also a sanctuary for the soul.
For more information about BAPS Swaminarayan Akshardham, please visit https://usa.akshardham.org/
About BAPS Swaminarayan Akshardham
The BAPS Swaminarayan Akshardham at Robbinsville, NJ, is sacred place of worship and a nexus of Hindu architecture, culture, unity, and selfless service. Presenting India's heritage to modern America, it embodies the visionary guidance of BAPS' spiritual leaders His Holiness Pramukh Swami Maharaj and His Holiness Mahant Swami Maharaj. Created by 12,500 volunteers from around the world, this masterpiece stands as an enduring symbol of love, peace, hope, and harmony, while preserving traditions across generations.
About BAPS
BAPS is a volunteer-driven spiritual organization committed to fostering individual growth through Hindu values of faith, service, and harmony. It enriches society with the devoted efforts of tens of thousands of volunteers from diverse professional and social backgrounds, contributing millions of volunteer hours annually. Under the spiritual leadership of His Holiness Mahant Swami Maharaj, BAPS nurtures Indian traditions in over 100 North American and 3,500 communities worldwide. Through these communities, it champions holistic personal growth, promotes social progress, and encourages diversity by embracing all.
Need More Information?
Reach out to media@na.baps.org