Dover, DE, October 23, 2023 – Metatron Apps Inc., (OTC: MRNJ) cements its position in the competitive world of AI and mobile app development, reflecting a perfect amalgamation of technological sophistication and strategic financial planning. In collaboration with MML Marketing, celebrated for generating over $19 million in internet sales, Metatron is poised for an unprecedented expansion in offering elite AI services.
AI Made Easy
Metatron is spearheading the "AI For ALL" initiative, a transformative step towards the democratization of AI, making it accessible and affordable for everyone. We are committed to eliminating the complexities traditionally associated with AI, offering intuitive, user-friendly solutions. By lowering cost barriers and simplifying interfaces, Metatron aims to empower businesses of all sizes, freelancers, and innovators with AI's unprecedented capabilities.
MML's Decade of Excellence
With over a decade of experience, MML Marketing has carved a niche in generating millions in sales for SaaS and technology products. Their seasoned call centers and adept digital marketing teams embody a synergy of expertise and innovation, propelling businesses to unprecedented heights. MML's proven track record is a testament to their capability to navigate the intricate landscape of technology sales, making them a coveted partner in the journey of business expansion and market penetration.
Affordable and Enhanced AI Services
At just $24.99 a month, Metatron offers an AI suite that is 50% less expensive than competitors, providing unlimited generative text and images without the caps imposed by other companies. Users benefit from new features, including preloaded AI templates and prompts tailored for efficient social media marketing. Accessible via both Apple and Android apps, Metatron ensures convenience and versatility, with new services and enhancements being added regularly to elevate the user experience.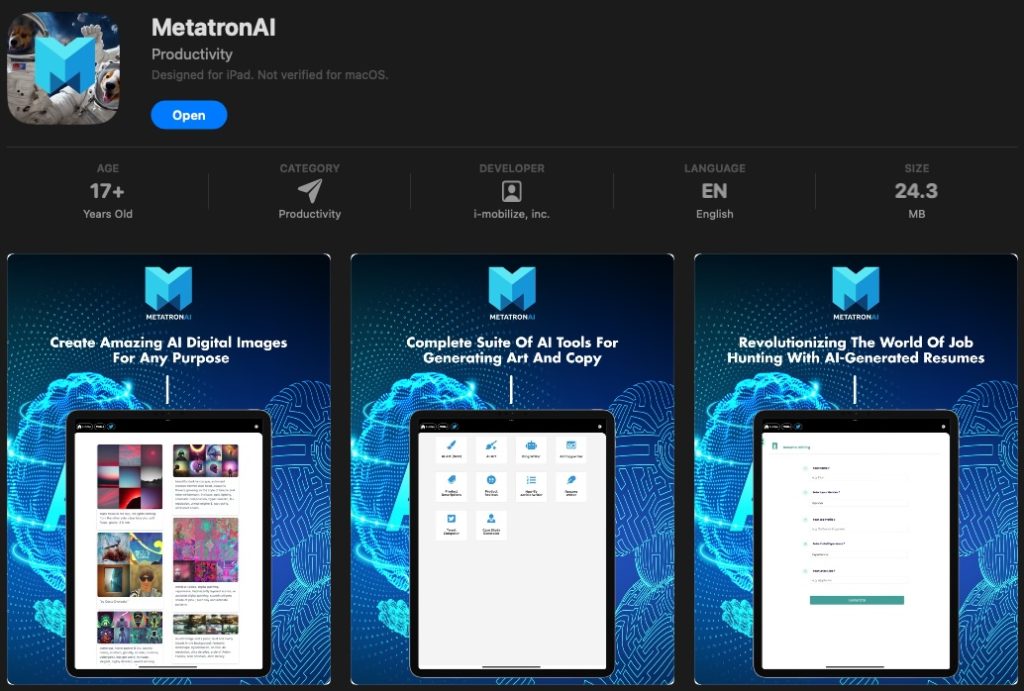 Generative AI Sector's Transformative Growth
Bloomberg Intelligence anticipates a significant upswing in the generative AI sector, from $40 billion in 2022 to $1.3 trillion within a decade, spurred by advancements in training infrastructure and diversification into specialized software and complex language inference devices. Metatron, aligning with MML Marketing, is distinctively positioned as potentially the only public OTC company offering a wide variety of operational and inventive AI services.
About Metatron Apps:
Metatron Apps is at the forefront of AI-driven solutions, offering an extensive platform laden with a suite of AI tools crafted to augment productivity, streamline processes, and ignite creativity. Our unwavering commitment to innovation ensures your enterprise is equipped with essential tools to thrive in the digital age.
Contact: IR@Metatronapps.com
Generative AI website: MetatronAI.com
Apple App: https://apple.co/3nibweB
Android App: https://bit.ly/40XOglu
Corporate website: MetatronApps.com
Twitter: https://twitter.com/MetatronInc
TikTok: https://www.tiktok.com/@metatronai.com
Metatron Apps Inc.
160 Greentree Drive Suite 101
Dover, DE 19904
(302) 489-4016
Disclaimer: Legal Translation service is not a substitute for legal counsel. While it may save time and money by helping clients understand contracts and other legal documents, it does not provide legal advice or replace the need for professional legal guidance.
Forward-Looking Statements: Any statements made in this press release which are not historical facts contain certain forward-looking statements, as such term is defined in the Private Litigation Reform Act of 1995, concerning potential developments affecting the business, prospects, financial condition and other aspects of the company to which this release pertains. These forward-looking statements involve known and unknown risks, uncertainties and other factors that may cause our actual results of the specific items described in this release, and the company's operations generally, to differ materially from what is projected in such forward-looking statements. Although such statements are based upon the best judgments of management of the company as of the date of this release, significant deviations in magnitude, timing and other factors may result from business risks and uncertainties including, without limitation, the company's need for additional financing, which is not assured and which may result in dilution of shareholders, the company's status as a small company with a limited operating history, dependence on third parties and the continuing popularity of the iOS operating system, general market and economic conditions, technical factors, receipt of revenues, and other factors, many of which are beyond the control of the company. Although we believe that the expectations reflected in the forward-looking statements are reasonable, we cannot guarantee future results, levels of activity, performance, or achievements. Moreover, neither we nor any other person assumes responsibility for the accuracy and completeness of such statements, and we disclaim any obligation to update information contained in any forward-looking statement.
SOURCE: Metatron Apps Inc.