Dover, DE, October 30, 2023 – Standing at the forefront of innovation and technology, Metatron Apps Inc., (OTC: MRNJ) boasts a legacy of over 1000 mobile apps, with many securing spots in Apple's top 20 lifestyle category. Our relentless pursuit of AI excellence now introduces a remarkable addition to their already comprehensive AI toolkit: the beta release of 'Stock Trendz'.
Unveiling Stock Trendz:
In a time where real-time insights hold the power to significantly impact stock trajectories, the beta version of Stock Trendz steps forth as an essential instrument. Powered by advanced AI, it rigorously scans prominent social media channels and stock discussion forums, delivering an hourly snapshot of the most-discussed stocks. Once Stock Trendz transitions from its beta phase to its finalized version, users can anticipate nearly instantaneous stock rankings, solidifying its role as an invaluable asset for global investors.
Metatron's expansive portfolio boasts other unique services. The Text-to-Video service metamorphoses written content into riveting video narratives. Meanwhile, the LegalEaze platform is crafted to translate intricate legal terms into understandable language.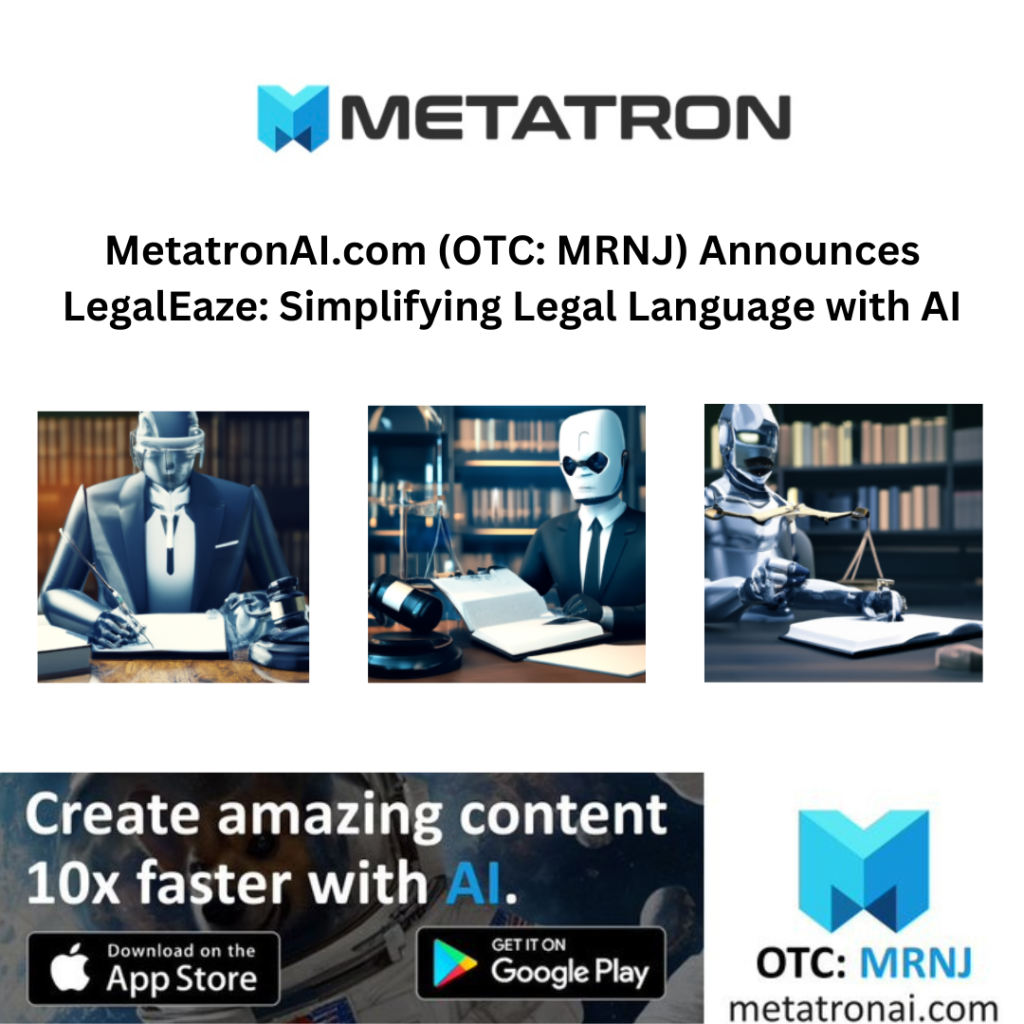 In the entertainment sector, in association with HempCoin THC blockchain, Metatron is developing a distinct mobile game, providing users with an intriguing dive into the evolving cannabis business landscape.
AI Made Easy
Metatron proudly announces its "AI For ALL" initiative, which stands as a monumental stride towards AI democratization. Stripping away traditional complexities, Metatron presents AI in a comprehensible, user-centric manner. By significantly slashing costs and offering an intuitive interface, the company has a clear goal: to arm businesses, freelancers, and creative minds with the transformative power of AI.
Affordable and Enhanced AI Services
For only $24.99 a month and a Free trial, Metatron presents an AI suite that's competitively priced at nearly half of what many rivals charge. Subscribers enjoy unlimited generative text and imagery sans any restrictive caps. The suite also boasts innovative features like AI-driven templates and prompts, specifically crafted for efficient social media outreach. Compatibility with both Apple and Android platforms further solidifies Metatron's commitment to user accessibility and convenience. Regular feature updates promise to keep the user experience fresh and avant-garde.
The broader industry landscape, as projected by Bloomberg Intelligence, envisions the generative AI sector's growth from $40 billion in 2022 to a whopping $1.3 trillion within the next decade, indicating a 42% CAGR. This anticipated growth underscores the vast potential Metatron is poised to tap into.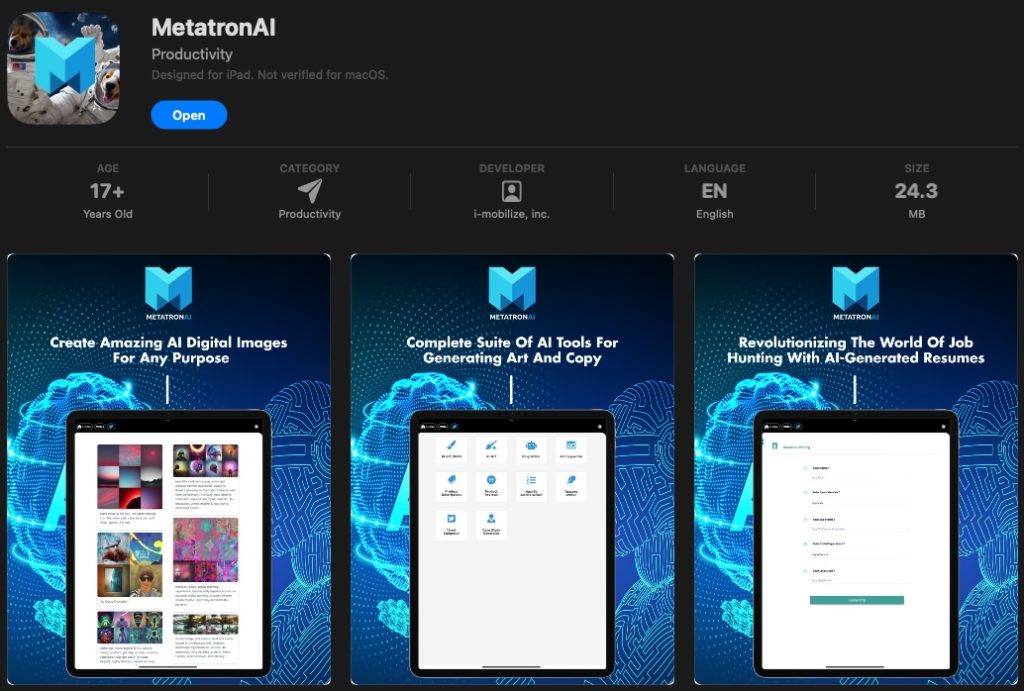 About Metatron Apps:
Positioned at the cutting edge of AI solutions, Metatron Apps offers a holistic platform brimming with AI tools designed for operational excellence, process enhancement, and boundless creativity. Innovation at Metatron is a relentless pursuit, ensuring businesses are well-equipped to navigate the digital world.
Contact: IR@Metatronapps.com
Generative AI website: MetatronAI.com
Apple App: https://apple.co/3nibweB
Android App: https://bit.ly/40XOglu
Corporate website: MetatronApps.com
Twitter: https://twitter.com/MetatronInc
TikTok: https://www.tiktok.com/@metatronai.com
Metatron Apps Inc.
160 Greentree Drive Suite 101
Dover, DE 19904
(302) 489-4016
Disclaimer: Legal Translation service is not a substitute for legal counsel. While it may save time and money by helping clients understand contracts and other legal documents, it does not provide legal advice or replace the need for professional legal guidance.
Forward-Looking Statements: Any statements made in this press release which are not historical facts contain certain forward-looking statements, as such term is defined in the Private Litigation Reform Act of 1995, concerning potential developments affecting the business, prospects, financial condition and other aspects of the company to which this release pertains. These forward-looking statements involve known and unknown risks, uncertainties and other factors that may cause our actual results of the specific items described in this release, and the company's operations generally, to differ materially from what is projected in such forward-looking statements. Although such statements are based upon the best judgments of management of the company as of the date of this release, significant deviations in magnitude, timing and other factors may result from business risks and uncertainties including, without limitation, the company's need for additional financing, which is not assured and which may result in dilution of shareholders, the company's status as a small company with a limited operating history, dependence on third parties and the continuing popularity of the iOS operating system, general market and economic conditions, technical factors, receipt of revenues, and other factors, many of which are beyond the control of the company. Although we believe that the expectations reflected in the forward-looking statements are reasonable, we cannot guarantee future results, levels of activity, performance, or achievements. Moreover, neither we nor any other person assumes responsibility for the accuracy and completeness of such statements, and we disclaim any obligation to update information contained in any forward-looking statement.
SOURCE: Metatron Apps Inc.