Dover, DE, October 12, 2023 – Metatron Apps Inc., (OTC: MRNJ) solidifies its stance in the competitive landscape of AI and mobile app development, embodying a harmonious blend of technological advancement and strategic fiscal orchestration.
As the generative AI sector undergoes transformative growth, a report by Bloomberg Intelligence anticipates a significant upsurge from $40 billion in 2022 to $1.3 trillion within a decade, boasting a 42% CAGR. This expansive trajectory is forecasted to be motivated by the evolution in training infrastructure and diversification into specialized software, services, and complex language inference devices. Tech giants are expected to lead this progression, contributing an estimated additional $280 billion to the software revenue ecosystem.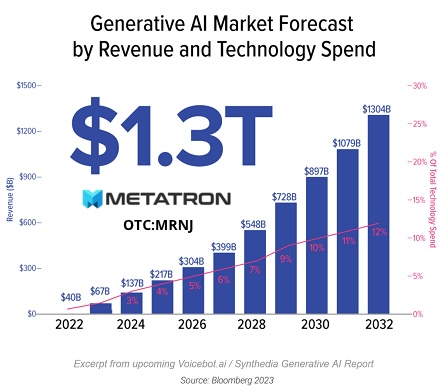 Try out Metatron's all-in-one suite of AI services for free for a limited at MetatronAI.com.
In the highly competitive domain of AI, Metatron holds a distinctive edge, potentially being the only public OTC company that can boast of operational, effective, and innovative AI services. This unique positioning accentuates its role as a leader in the sector, embodying a synergy of advanced technology and market accessibility.
Metatron unveils an avant-garde AI-powered content creation platform, marking the inception of a phase characterized by enhanced efficiency, speed, and cost-effectiveness. This innovative development is aimed at empowering businesses to refine and optimize content production strategies, reinforcing Metatron's eminent position in the AI arena.
The introduction of the Text-to-Video service underscores Metatron's commitment to innovation, offering a dynamic tool that transforms textual content into captivating video narratives, augmenting content accessibility and audience engagement.
In collaboration with AICopy.com, Metatron accentuates a convergence of efficiency and creativity. This partnership promises an array of tools engineered to fuse innovation with practical application, amplifying the resourcefulness available to content creators and businesses alike.
LegalEaze, another pioneering service within Metatron's portfolio, is devised to distill complex legal terminologies and narratives, enhancing accessibility and fostering a universal understanding of intricate legal processes and documentation.
A partnership with HempCoin THC blockchain heralds the unveiling of an innovative mobile game. This initiative, interweaving AI and blockchain, promises not only entertainment but an insightful exploration into the evolving cannabis business landscape.
The company's commendable fiscal health is articulated through a significant reduction in debt and convertible notes, illuminating a path characterized by resilience and innovation. This fiscal fortitude signals a promising trajectory, affirming Metatron's positioning as a force of growth and innovation.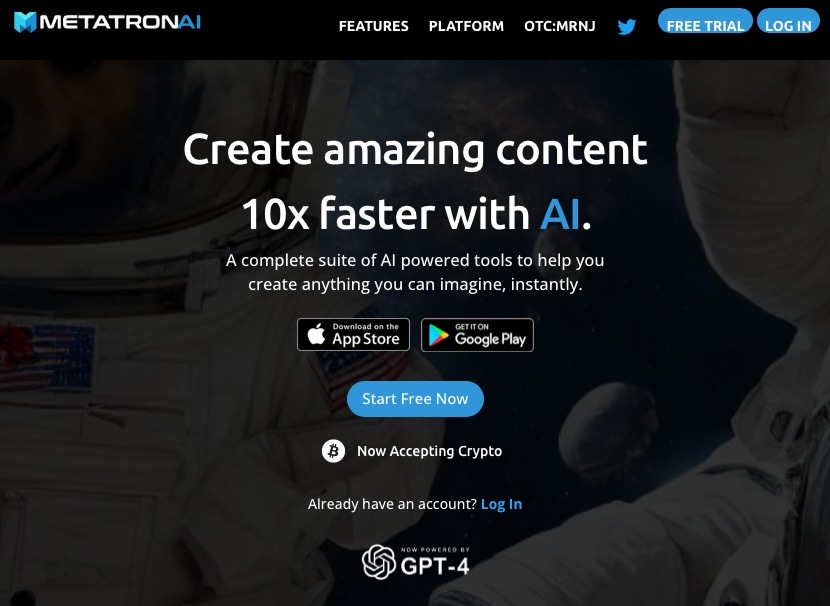 About Metatron Apps:
Metatron Apps is a leader in AI-driven solutions, offering a comprehensive all-in-one platform equipped with a suite of AI tools designed to enhance productivity, streamline processes, and drive creativity. Our commitment to innovation ensures that you have the tools your company need to excel in the digital age.
Contact: IR@Metatronapps.com
AI content website: MetatronAI.com
Corporate website: MetatronApps.com
Twitter: https://twitter.com/MetatronInc
TikTok: https://www.tiktok.com/@metatronai.com
Metatron Apps Inc.
160 Greentree Drive Suite 101
Dover, DE 19904
(302) 489-4016
Disclaimer: Legal Translation service is not a substitute for legal counsel. While it may save time and money by helping clients understand contracts and other legal documents, it does not provide legal advice or replace the need for professional legal guidance.
Forward-Looking Statements: Any statements made in this press release which are not historical facts contain certain forward-looking statements, as such term is defined in the Private Litigation Reform Act of 1995, concerning potential developments affecting the business, prospects, financial condition and other aspects of the company to which this release pertains. These forward-looking statements involve known and unknown risks, uncertainties and other factors that may cause our actual results of the specific items described in this release, and the company's operations generally, to differ materially from what is projected in such forward-looking statements. Although such statements are based upon the best judgments of management of the company as of the date of this release, significant deviations in magnitude, timing and other factors may result from business risks and uncertainties including, without limitation, the company's need for additional financing, which is not assured and which may result in dilution of shareholders, the company's status as a small company with a limited operating history, dependence on third parties and the continuing popularity of the iOS operating system, general market and economic conditions, technical factors, receipt of revenues, and other factors, many of which are beyond the control of the company. Although we believe that the expectations reflected in the forward-looking statements are reasonable, we cannot guarantee future results, levels of activity, performance, or achievements. Moreover, neither we nor any other person assumes responsibility for the accuracy and completeness of such statements, and we disclaim any obligation to update information contained in any forward-looking statement.
SOURCE: Metatron Apps Inc.