Conference Call on Thursday, August 10, 2023, at 5:00 a.m. PT / 8:00 a.m. ET
IRVINE, CA, August 10, 2023 – Oncocyte Corporation (NASDAQ:OCX), a precision diagnostics company, today reported financial results for the second quarter of 2023, ended June 30, 2023.
Second Quarter and Recent Highlights
Transplant product launch on pace for Q4 early access. Manufacturing transfer process for 48-target universal assay began in June
Expanding clinical utility for VitaGraft Kidney, a recent peer-reviewed publication in Kidney International Reports showed ability to identify ABMR and differentiate it from IgA Nephropathy
Landmark randomized triple negative breast cancer study of DetermaIO in patients treated with Keytruda in the adjuvant setting continues to progress
Cash, cash equivalents, and marketable securities totaled $17.9 million at June 30, 2023, with average cash burn projected to drop below $5 million a quarter in 2 H HH 2023
"In the second quarter, we made significant progress towards the development and manufacturing of our Transplant product for institutions conducting research on the use of cfDNA monitoring post-transplantation," said Josh Riggs, CEO of Oncocyte. "We look forward to serving the global transplant community with our patented technology and expect to meet our target of early access launch by the end of this year. On the clinical front, our transplant and oncology laboratory tests continue their review process with MolDX as they are evaluated for potential coverage. Amongst the potential coverage decisions, ongoing clinical studies and operational improvements, we believe that Oncocyte is positioned for success with several value creating milestones achievable in the second half of this year."
Second Quarter 2023 Financial Results
Consolidated revenues for the second quarter of 2023 were approximately $0.5 million, and cost of revenues for the second quarter were approximately $0.2 million, primarily from services customers.
Net consolidated operating loss for the three months ended June 30, 2023, was $8.3 million, compared to consolidated operating loss of $8.6 million, a decrease of $0.3 million from the same period in the prior year.
Consolidated research and development expense for the second quarter decreased 56% year-over-year from $5.6 million to $2.4 million driven by focused investment in developing manufacturable versions of our assays.
Consolidated general and administrative expense for the second quarter decreased 36% year-over-year from $5.5 million to $3.5 million, reflecting management's efforts to control spending not directly related to product development or commercial activities.
Consolidated sales and marketing expense for the second quarter decreased 77% year over year from $3.5 million to $0.8 million. We focused on our early access programs and early market access work for our laboratory tests and research products.
For Oncocyte's complete financial results for the second quarter ended June 30, 2023, see the Company's Quarterly Form 10-Q to be filed with the Securities and Exchange Commission on Aug 10, 2023.
Webcast and Conference Call Information
Oncocyte will host a conference call to discuss the first quarter 2023 financial results prior to market open on Thursday, August 10, 2023 at 5:00 a.m. Pacific Time / 8:00 a.m. Eastern Time. The conference call may be accessed live via telephone by dialing (877) 317-6789 for domestic callers or (412) 317-6789 for international callers. Once dialed in, ask to be joined to the Oncocyte Corporation call. The live webinar of the call may be accessed by visiting the "Events & Presentation" section of the Company's website at https://investors.oncocyte.com.
About Oncocyte
Oncocyte is a precision diagnostics company. The Company's tests are designed to help provide clarity and confidence to physicians and their patients. DetermaIO™ is a gene expression test that assesses the tumor microenvironment in order to predict response to immunotherapies. VitaGraft™ is a blood-based solid organ transplantation monitoring test, and pipeline test DetermaCNI™ is a blood-based monitoring tool for monitoring therapeutic efficacy. For more information, visit www.oncocyte.com
VitaGraft™, DetermaIO™, and DetermaCNI™ are trademarks of Oncocyte Corporation.
Forward-Looking Statements
Any statements that are not historical fact (including, but not limited to statements that contain words such as "will," "believes," "plans," "anticipates," "expects," "estimates," "may," and similar expressions) are forward-looking statements. These statements include those pertaining to, among other things, the expectation that the Company's transplant product launch is on pace for Q4 2023 early access, the projection that average cash burn will drop below $5 million a quarter in 2H 2023, the anticipation of potential coverage from MolDX for our transplant and oncology laboratory tests, the expectation that Oncocyte is positioned to achieve several value creating milestones in the second half of this year, and other statements about the future expectations, beliefs, goals, plans, or prospects expressed by management. Forward-looking statements involve risks and uncertainties, including, without limitation, the potential impact of COVID-19 on Oncocyte or its subsidiaries' financial and operational results, risks inherent in the development and/or commercialization of diagnostic tests or products, uncertainty in the results of clinical trials, changes to regulatory oversight and/or regulatory approvals, the capacity of Oncocyte's third-party supplied blood sample analytic system to provide consistent and precise analytic results on a commercial scale, potential interruptions to supply chains, the need and ability to obtain future capital, maintenance of intellectual property rights in all applicable jurisdictions, obligations to third parties with respect to licensed or acquired technology and products, the need to obtain third party reimbursement for patients' use of any diagnostic tests. Oncocyte or its subsidiaries commercialize in applicable jurisdictions, and risks inherent in strategic transactions such as the potential failure to realize anticipated benefits, legal, regulatory or political changes in the applicable jurisdictions, accounting and quality controls, potential greater than estimated allocations of resources to develop and commercialize technologies, or potential failure to maintain any laboratory accreditation or certification. Actual results may differ materially from the results anticipated in these forward-looking statements and accordingly such statements should be evaluated together with the many uncertainties that affect the business of Oncocyte, particularly those mentioned in the "Risk Factors" and other cautionary statements found in Oncocyte's Securities and Exchange Commission (SEC) filings, which are available from the SEC's website. You are cautioned not to place undue reliance on forward-looking statements, which speak only as of the date on which they were made. Oncocyte undertakes no obligation to update such statements to reflect events that occur or circumstances that exist after the date on which they were made, except as required by law.
CONTACT:
Stephanie Prince
PCG Advisory
(646) 863-6341
sprince@pcgadvisory.com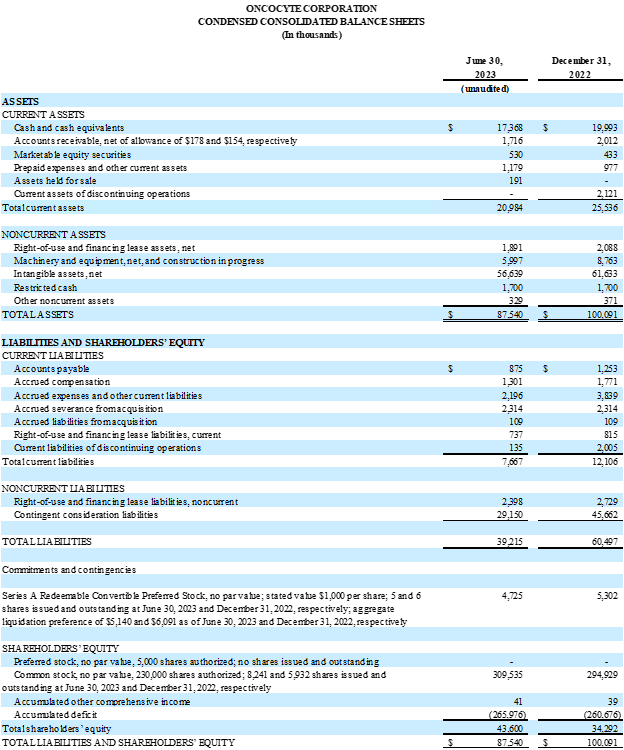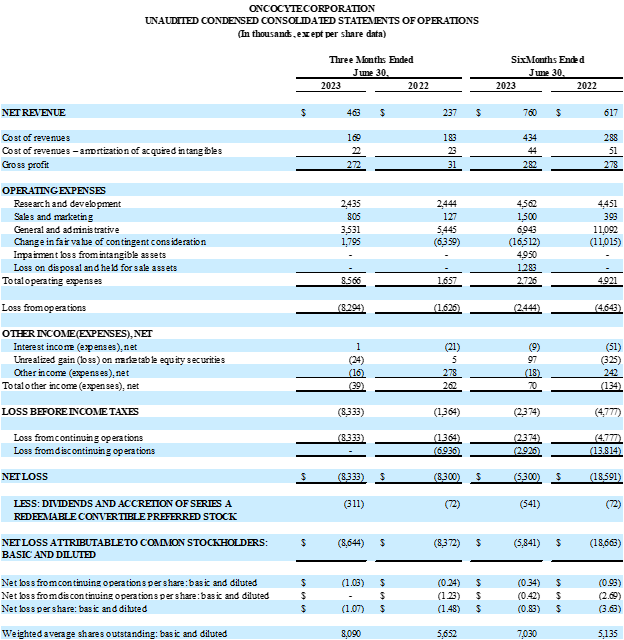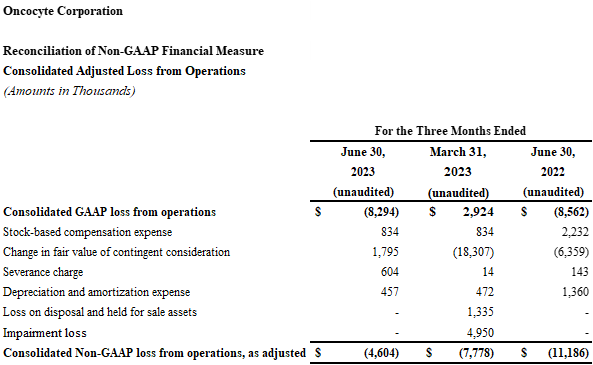 SOURCE: Oncocyte Corporation