PHOENIX, August 3, 2023 — RAADR, Inc. (OTC PINK: RDAR), a technology and software development company that monitors cyber-bullying and social media platforms with artificial intelligence announced today that it has retained K&J Growth Hackers, an Award-Winning Growth Hacker Marketing Agency which providing performance-based marketing and viral growth for Tech Startups and Apps.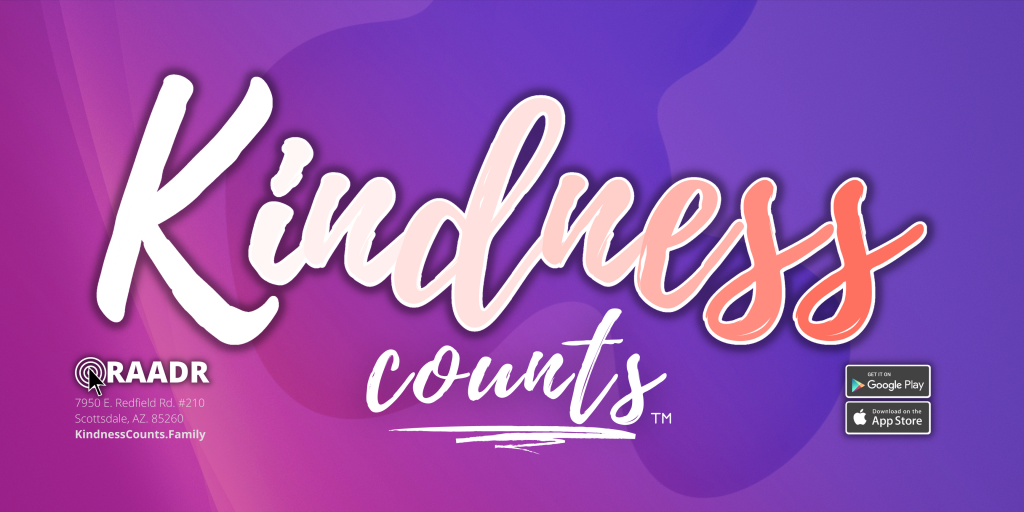 Jonathan Maxin, CEO of K&J is Jonathan Maxim is a Fortune 500 marketing strategist turned growth hacker who's led global campaigns for top brands, including Monster Energy, Xfinity, and TikTok, which gained 22,800 app installs in the first 30 days of their campaign. Maxim is co-founder of Vea Fitness, a social media fitness app that rewards your workouts with discounts and free gear from top retailers like Saucony and New Balance, as well as local storefronts. Vea Fitness was founded in 2014 and was successfully sold in 2017 to private investors in the medical field. After that, Maxim headed up growth marketing for TikTok / ByteDance in 2019, responsible for its explosive growth in USA, UK, and Brazil during 2019-2020, driving over 18,500 TikTok installs in 24 hours. Since then, Maxim has run growth marketing for social media platform Triller (Triller – You Do You) in which he brought cost per user acquisition down by 73% in 3 months.
K&J's focus is to increase RAADR™ app downloads, build a monetization platform and increase user lifetime value and company revenue as well as improve product features and functionality and enhance content delivery in app for users.
Jonathan Maxim, CEO of K & J Growth stated, "The RAADR mission is a profound one, and one I'm proud to be a part of supporting and growing. We have big plans for the RAADR App launch, including powerful partnerships with professional sports teams and leagues, RAADR ambassadors from the NFL and NBA, and of course, a digital strategy that includes omnipresence across Facebook, Instagram, Google, YouTube, and several other large platforms. Our aim is to acquire 10,000 new users within 6 months of launch – which is bold, but also attainable – based on historical app launches I've conducted including TikTok in the UK, USA, and Brazil from 2019-2021, and Triller thereafter. That said, the most important thing is RAADR finding and stopping bullying in its tracks for our youth today, and bringing solace to people like myself and our investors who were either bullied themselves, or have kids enduring bullying today."
Jacob DiMartino, CEO of RAADR stated "We are really looking forward to Jonathan and his team to help jumpstart our company growth. He's an expert at online user acquisition and that's exactly what we need."
ABOUT RAADR, INC.
RAADR, Inc. (OTC PINK: RDAR) publishes software that protects children who use social media and the internet. Known as the internet anti-bullying company, RAADR's products allow children, parents, school districts and law enforcement to monitor bullying and other threatening behavior across social media and the metaverse in real time. RAADR Parental 2.0, which is a parental monitoring and student reporting social media application, allows parents to protect children by using real time monitoring across all major social media platforms and the metaverse to report cyberbullying, suicidal thoughts and threatening behavior. Armed with many features including keyword tracking, real-time alerts, and site filtering, RAADR'S platform can determine in real time whether children or young adults are the victim or could be the victim of campus violence, cyber bullying, stalkers, bullies and other threatening behavior. According to a recent study conducted by www.security.org, over 21% percent of the kids studied between the ages of 10 and 18 have been cyberbullied. The RAADR app is available for download in the Google Play Store and Apple App Store.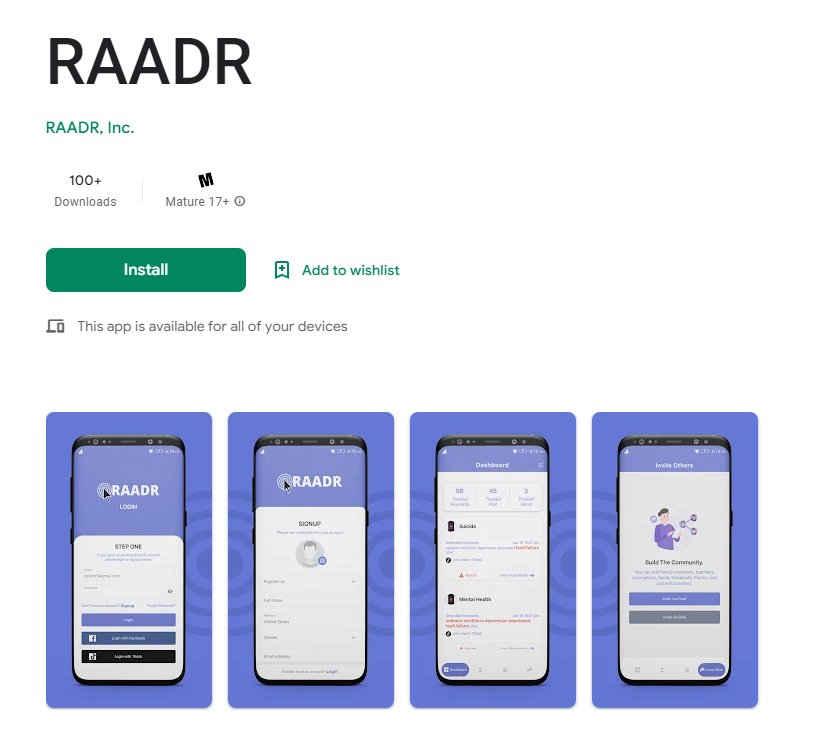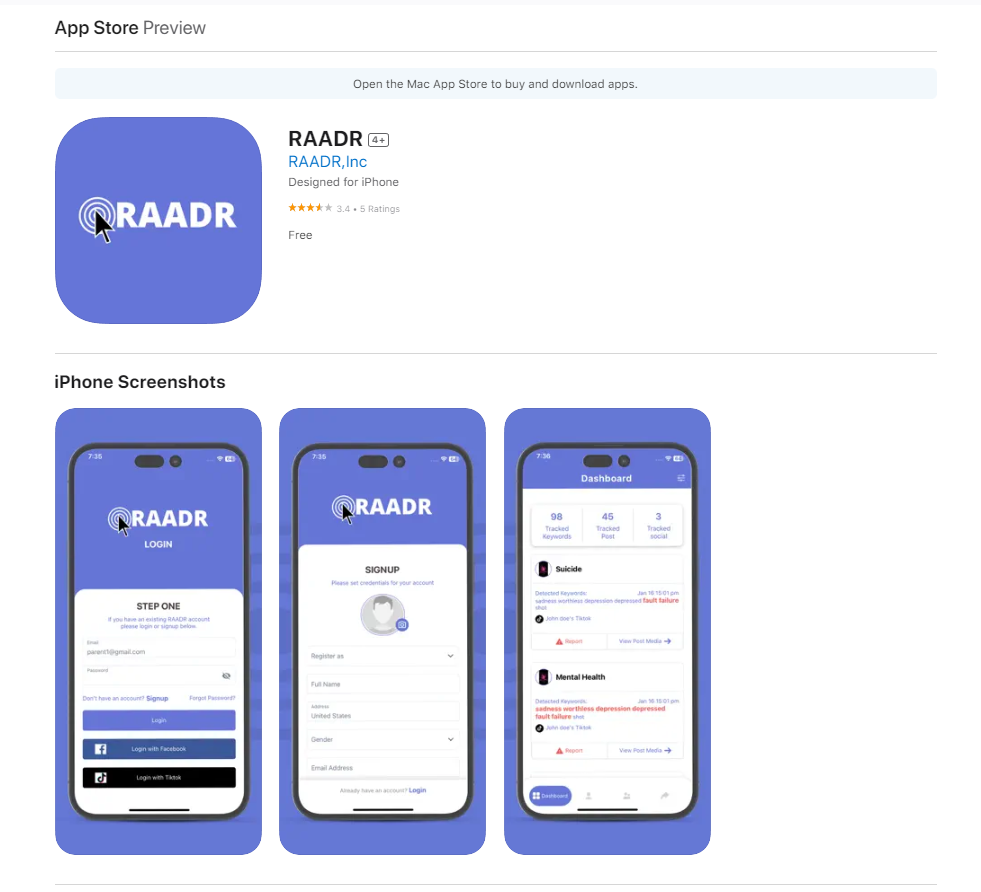 SAFE HARBOR STATEMENT
This press release contains forward-looking statements that can be identified by terminology such as "believes," "expects," "potential," "plans," "suggests," "may," "should," "could," "intends," or similar expressions. Many forward-looking statements involve known and unknown risks, uncertainties and other factors that may cause actual results to be materially different from any future results implied by such statements. These factors include, but are not limited to, our ability to continue to enhance our products and systems to address industry changes, our ability to expand our customer base and retain existing customers, our ability to effectively compete in our market segment, the lack of public information on our company, our ability to raise sufficient capital to fund our business, operations, our ability to continue as a going concern, and a limited public market for our common stock, among other risks. Many factors are difficult to predict accurately and are generally beyond the company's control. Forward-looking statements speak only as to the date they are made, and we do not undertake to update forward-looking statements to reflect circumstances or events that occur after the date the forward-looking statements are made.
FOR MORE INFORMATION:
Media Contact:
Jacob DiMartino